Meet Linda Craft and Team
Paying It Forward In The Community
Linda Craft and Team Give Back to the Community
Linda Craft & Team have a strong belief that we should always give back to our Wake County Community whenever we can.   Not only do we donate bottled water, cruises and other items, we also provide free use of our Moving Van to every charitable organization.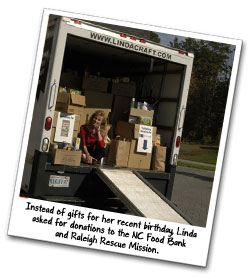 Below are some of the many charities we contribute to:
Heart Association

Kids in Community Foundation

American Red Cross

Builders of Hope

Habitat For Humanity

House of Hope

Team In Training

Lymphoma & Leukemia Association

Christian Life Home

Campus Crusade For Christ

Coats For Kids

Raleigh Rescue Mission

North Carolina Food Bank

Red Cross

Jimmy V Foundation

Wake SPCA

Dear Linda Craft & Team,
We'd like to take the opportunity to sincerely thank you for sponsoring the 20th Annual Bark Around the Park!   We feel like it was our most successful event ever and estimate that we had over 3,500+ in attendance!!
We could not have provide such a wonderful opportunity for the community without your continued support and participation.   We truly appreciate all you do to make the event successful!  Please share with your team our apprection and send our gratitude.
Nikki Speer
Recreation Facility and Program Supervisor III
Millbrook Exchange Community Center
1905 Spring Forest Road
Raleigh, NC 27615
Dear Linda,
There is no way we at Post 1 can thank you enough for your generosity in providing your van on Saturday to transport six of us to the National High School Oratorical contest finals here in North Carolina.
Post 1's and Division III's winner, Keifer Wynn, was provided comfort and encouragement from all who could travel with him.  He came in third.  He gives his thanks to you as well.  
Sincerely,
Gerry Coleman
American Legion Post 1
Boys State/Oratorical Chairman
Division 3 Oratorical Chairman
Raleigh, NC
Dear Ms. Craft,
I would like to take this opportunity to say thank you on behalf of the members of Corvettes International and Hospice of Wake County for your recent support of our 12th annual charity car show.  This year we were able to raise over $2,000 for Hospice of Wake County. 
Although this was a large undertaking from our entire membership, we felt the rewards were substantial in helping our local community.  Again we say thank you and with your continued support we can make it a bigger and better show next year.
Sincerely,
Frank Everitt
Car Show Committee
Dear Linda Craft and Team,
We are proud to announce that the "2nd Annual Wild on Wysong" event was a huge success. Thank you for your generous donation to the silent auction. With your help, we are able to raise almost $3,000 for the Autism Society of North Carolina. This money will aid in providing support to a family caring for a loved one with autism or providing life=changing opportunities for an individual with autism. Because you chose to give, a parent will receive resources needed to understand how to care for their child, an adult will become a contributing member to society, and a child will experience camp for the first time. Thank you again for your generosity in helping us to support a cause that is near and dear to our hearts.We look forward to your help next year.
Sincerely,
Keith & AnnMarie Teegarden
Brad & Sarah Murphy
Brad & Sarah Gross