Coporate Real Estate Sponsor for the Carolina Hurricanes
Enter to Win
In 2006, The Linda Craft Team were very excited to announce they were named the Preferred Real Estate Partner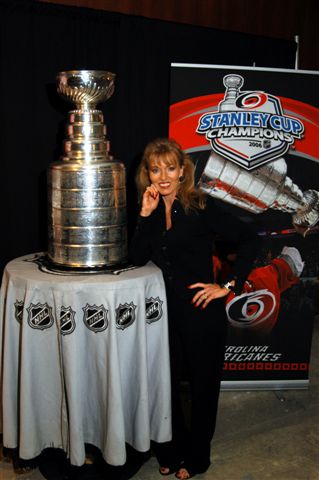 for the 2006 Stanley Cup Champions, the Carolina Hurricanes.
As a Corporate Real Estate Sponsor for the Canes, Linda and her Team assist players, coaches, managers staff and local fans with their housing needs.
Linda is featured in the home game in-game presentations and gives away chooler chairs, hockey playstations games and other various prizes.  Her clients as well as any game attendee are given the chance to win free hockey tickets for the Canes home games. To have a chance to win these tickets, simply register below.
"Dear Linda,
I appreciate the opportunity you gave us to make my daughter's first Canes game the best ever. She can't stop talking about it.
I really enjoyed the royal treatment and talking with you at the game. You and your team are a class act!
Talk to you soon,"
-Steve Jackle
"Dear Katherin,
I wanted to send youu a note telling you how much we appreciated the tickets for the Hurricanes game last Tuesday night. It was such a treat for us. We got to celebrate Glen Wesley's retirement, eat great food, and enjoy wonderful seats while watching the game.  My husband and I loved having a night together, even if the Canes lost!
Thank you so much for sharing such a nice blessing,"
-June Volstad
"Dear Linda,
Thank you so much for sharing the Hurricanes tickets with Danny and I.  It was a great game and we enjoyed your fellowship and meeting your husband, Jay.   Thank you again and may God bless you back for your kindness!  Go Canes!"
-Diane Cox
Simply add your contact info below and you will automatically be entered to win.
Register for Carolina Hurricanes Tickets
Protecting Your Privacy
Please note, we hate spam as much as you do. We are diligent about protecting your privacy and will never share or sell your private contact information with a third party. You can view our privacy policy for more information. By providing your contact information, you are giving Linda Craft permission to contact you via email for regular updates and real estate information.